REGEN-Nations project based learning journey created by the Global Ecovillage Network Oceania and Asia (GENOA). Our programme provides a whole-systems education to create solutions for sociological, cultural, economic, and ecological resilience and regeneration.
In collaboration with over 25 experts in regenerative practices, we weave together the wisdom and rich cultural heritage of Oceania and Asia to explore ways that heal and restore ourselves, our communities, and our natural environments together.
A programme for a holistic approach
We live in a complex web of life and in order to create life enhancing systems that work with nature, we need to embrace and design for this. Our curriculum and our learning approach provides a framework of tools that adapts depending on what you want to focus on. Many of the design systems we introduce to you can be applied to a project at different levels, helping you to discover new ways to approach things.
Our live programme is one of 'co-learning'. This reflects the idea that as we share our learnings together we inspire each other, learn from each other and as a result we grow more than if we had journeyed alone. Community is an important aspect of our programme, and we dedicate time both inside and outside of the education programme. Through our community space we can continue to support and strengthen each other.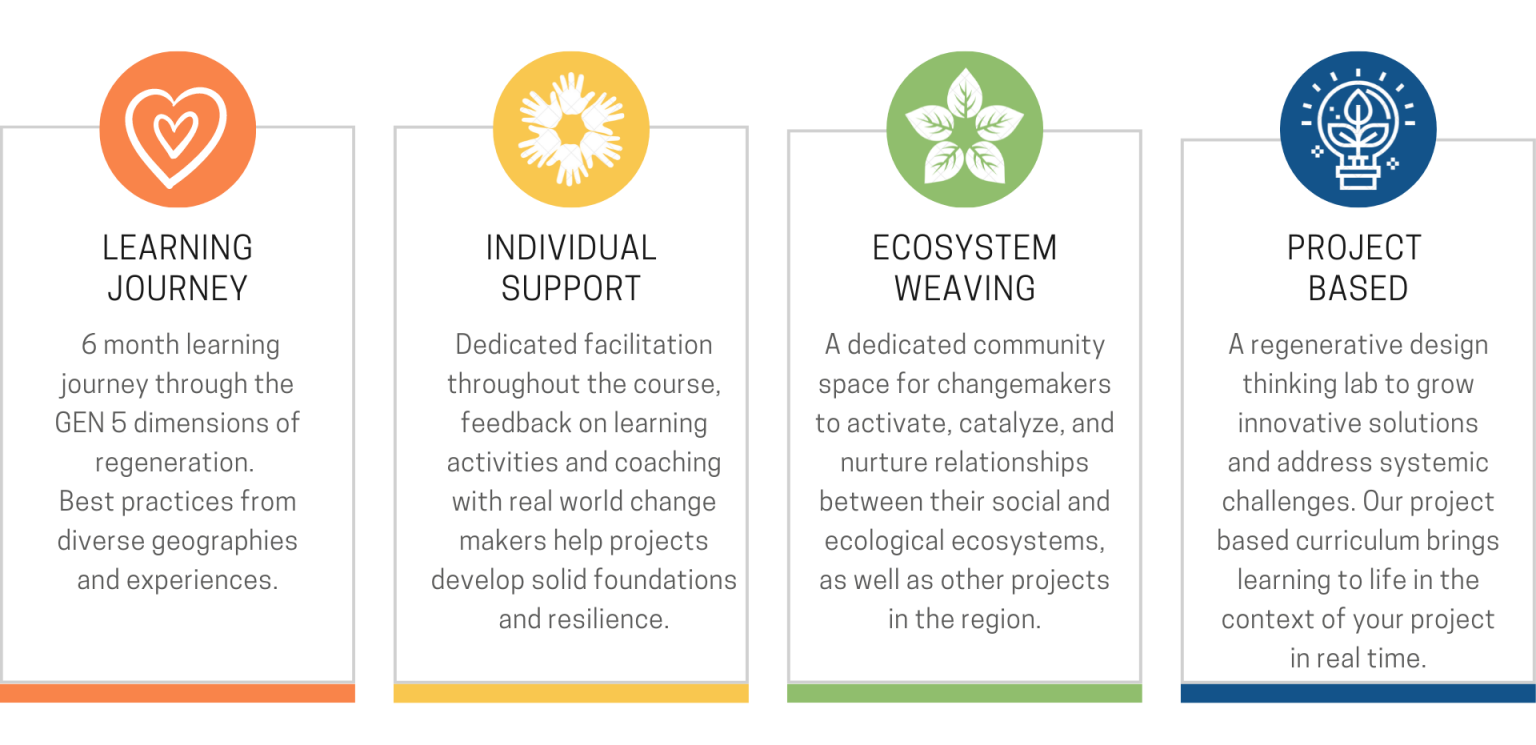 Our curriculum helps you to:
Enhance your skills for empathic and agile leadership in times of complexity
Learn how to design for your projects social and cultural ecosystems
Develop your project or idea through the five areas of regeneration into a holistic project proposal
Apply different design approaches, tools and active learning exercises for regenerative design
Practise and learn in real time with feedback from experienced project practitioners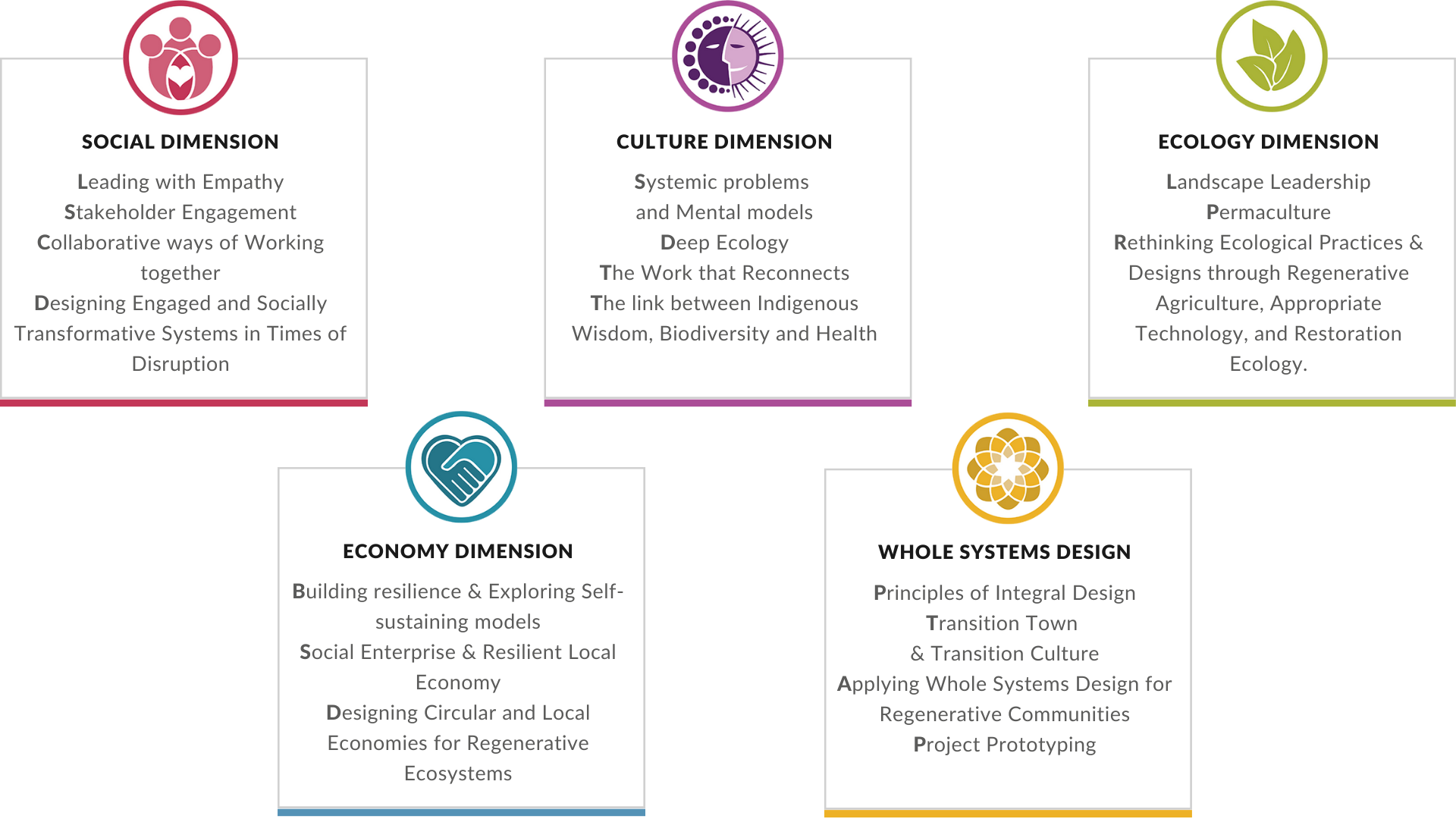 Programme access to suit you
We recognise that as individuals we are all at different points on our life journey and learning pathways. We created different access options so you can choose the one that best suits you where you are right now.
Our online curriculum is designed to support you and your project through all 5 dimensions. Project based learning exercises are designed to help integrate the topics in each dimension. Our speakers are leaders from the Oceania and Asia region, with many years experience in designing and implementing successful regenerative projects. We are proud to collaborate with these wonderful experts on many topics to give your project the best possible start!
Originally presented as a live 6 month learning programme includes dedicated facilitation and mentoring. Individual feedback on your action learnings and one to one coaching gives you access to expert guidance just for your project. Whilst our live programme for 2022 has already closed and is not taking new participants currently, we are able to provide facilitation and mentoring for groups of 5 or more, please email [email protected] to find out more.
You can choose to join the whole programme, or just the Single Dimension. This is a great option for those who are ready to focus on one dimension specifically, and dive into topics like Social design or Cultural design which are foundational to a holistic approach.
Live programme calendar and timing
The 2022 live cohort has ended, join our mailing list to receive updates about our live events.
Live programme flow : What to expect
Our full programme requires a minimum time commitment of 84 hours to go through the curriculum, videos, and complete action learning activities. This breaks down to around 16 hours per dimension and in addition we recommend 1.5 hours for pre course material and getting to know the learning platform, and 3 hours to prepare your final project presentation.
Our programme is made up of 5 dimensions which are active for 4 weeks followed by a one week break. Each dimension opens on a Monday and contains written materials and pre-recorded presentations from practitioners in the field. These are available on the learning platform for you to study at your own pace, and action learning exercises are completed and submitted by the end of week 3. The dimension flow looks like this: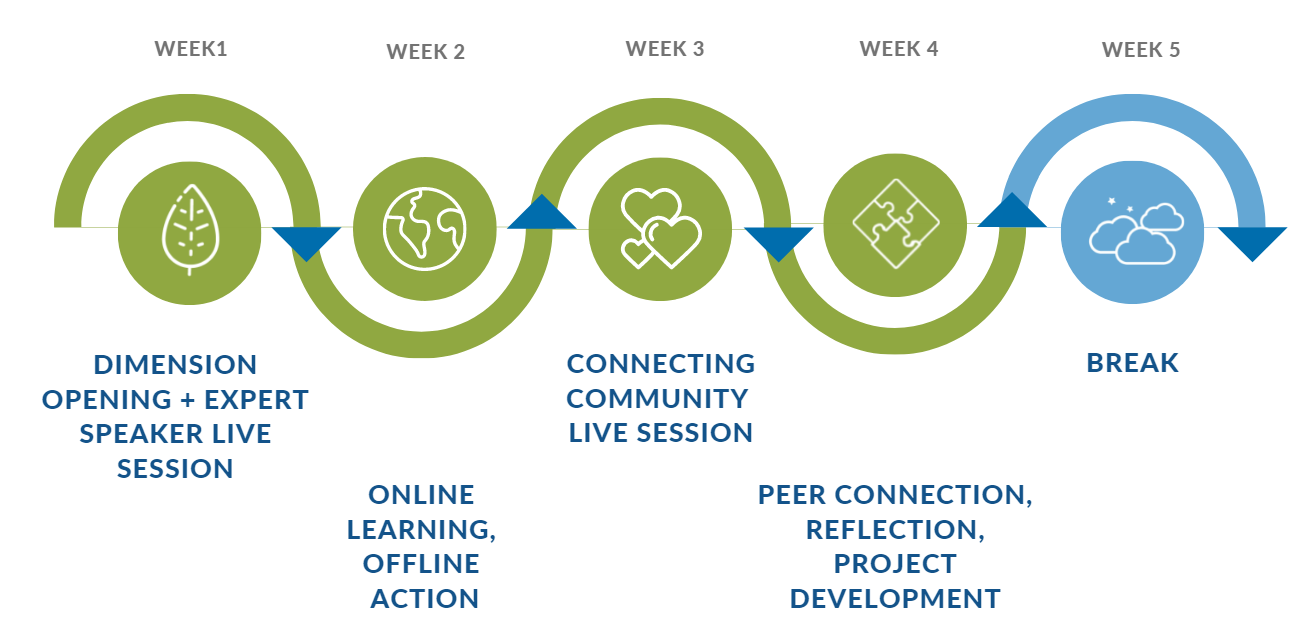 We also have two live sessions per dimension. The first is in week 1 of each dimension, when we are joined by an expert who has rich experience in that dimension. The community live session will be hosted in week 3, after you have completed your action learnings. This is the space for sharing insights, learnings and questions, around how to apply this dimension to your project, as well as to connect participants and foster relationships.
Week 4 of each dimension, after the community call, is time for you to dive deeper into any topic from the dimension and work on developing your project presentation. Week 5 is intended for everyone to rest, as we understand rest is a vital, and often overlooked, part of the cycle of life. Rest and reflection give us space for creativity to emerge, for ideas to ferment and for us to revitalise our minds and bodies.
A certificate of completion is available to those joining fully facilitated programme. We ask you to attend at least 80% of live sessions for the whole course, and deliver 100% of action learning exercises including a final project presentation within the published timeframes.
Fees, discounts and payments
The fees are shown in GBP and you can check the approximate value in your currency here. You can pay by card, via paypal or direct bank transfer – either the full amount upfront or in multiple instalments. Please see the FAQ for more details.
Scholarships: We want REGEN-Nations to be accessible and understand those without the means to pay may be some of the most in need of this education. We have a Scholarship fund able to provide a limited number of partial scholarships. The application period for scholarship is now over.
Our scholarship fund is generously provided by individuals and organisations who wish to support those who may face financial difficulty. We welcome donors and sponsors, and have people waiting to be supported, please email us!
Even more information!
Please read our FAQs
Meet our trainers and speakers or the team behind REGEN-Nations.
If you prefer to listen than to read about our programme, we invite you to watch our Grounding in Regeneration session from March or taster session from January 2022.
Read here for more about REGEN-Nations 2020 course and cohort, and connect to some of the projects activated!
---
---