This course provides you whole-system education and regenerative practices that empower individuals and communities to develop impactful projects.
The Asia – Pacific region holds many of the world's climate vulnerable nations. With dense populations and great social and political divides, many countries who are already facing challenges prior to the COVID19 pandemic, face more vulnerabilities and challenges ahead.
The REGEN-NATIONS program is a 6-month learning journey and prototyping lab using whole systems thinking to design solutions for sociological, cultural, economic, and ecological resilience and regeneration, created by the Global Ecovillage Network Oceania and Asia (GENOA). Weaving together the wisdom of our rich cultural heritage with locally appropriate social and scientific methods and technologies, we aim to explore ways that heal and restore our selves, our communities, and our natural environments together.
✻✻✻
REGEN-NATIONS 2022 will run from February 7th – July 24th, 2022.
This program will:
Enhance skills for empathic and agile leadership in times of complexity 
Provide knowledge, tools and information on regenerative design and solutions adapted to participant's needs for self-improvement and project development
Enable an ecosystem of support for peer to peer learning, cross-pollination of ideas, and collaboration for better impact
Give you the opportunity to practice whole system thinking and regenerative design with concrete examples/actions
✻✻✻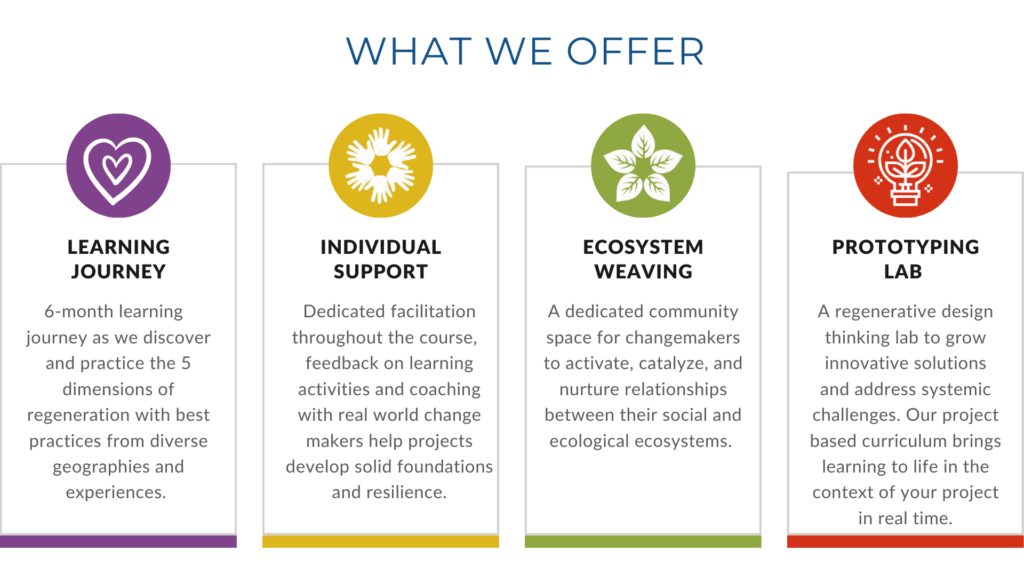 Program Outline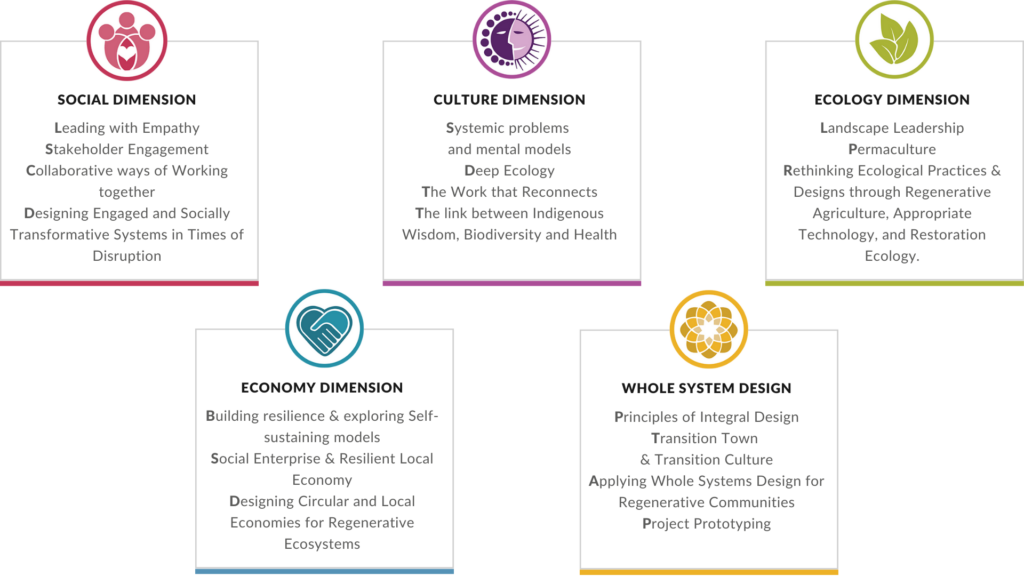 Your commitment
This course involves 84 hours of active learning required for you to complete the program and earn a Certification of Completion. Expect to spend a total of approximately 16 hours for each dimension, 1.5 hours for onboarding and 2.5 hours for final project prototyping. In each dimension (5 weeks), there will be a two-hour live session with guest speakers/trainers, a two-hour community learning session, 12 hours of self-paced study to integrate and apply what you learn. See the flow of each dimension below:
All live sessions will be recorded and available for you to watch for the full duration of the course.
To qualify for the certificate, we ask you to attend at least 80% of live sessions for the full 5 dimensions, complete online lessons, deliver 80% of action learning assignments and submit a final project design.
Timing
The course will run from February 2022 – July 2022 with the detail dates for each dimension as follows:

You will be studying with passionate people from around the world – a deeply enriching experience that also makes scheduling challenging. In order to support participation from the vast region of Oceania & Asia, all live sessions will be on a Saturday from 11.30AM – 1.30PM IST | 1PM – 3PM ICT | 4PM – 6PM AEST (use this tool to check your local time).
Cost & Scholarships
Course fee for the full comprehensive course and certificate: £585. Register now to receive the (limited) early bird rate of £525. You can check the approximate value in your currency here. You can pay by card, or via paypal or direct bank transfer – either the full price upfront, or in multiple installments.
We are currently hosting a fundraising campaign to raise funds for the development cost and the scholarship of the courses. We are happy to support you to raise funds yourself by providing a proposal deck of the course. Please email to [email protected] for further discussion.
Read more about the last cycle REGEN-Nations 2020/2021 here.
---
---