Certified by Gaia Education and GEN
*Registration has now closed. See the bottom of this page if you are interested in a possible next cohort.*
A rare opportunity to attend a full Ecovillage Design Education (EDE) online with top facilitators and experts from around the world. This 4.5 month live course is a transformative learning journey providing knowledge and practical skills for how to design thriving communities and societies within planetary boundaries.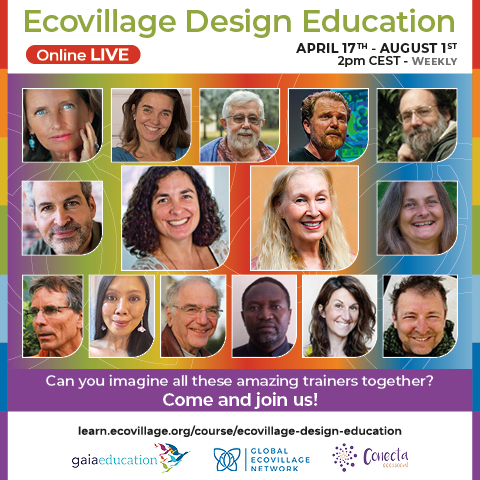 This course is facilitated by experienced EDE trainers: Macaco Tamerice and Taisa Mattos, with well-known guest trainers from the Ecovillage Movement: Ina Meyer-Stoll, Achim Ecker, Sarah Queblatin, Ross Jackson, Daniel Christian Wahl, Daniel Greenberg, Kosha Joubert, John Croft, Anna Kovasna, Albert Bates, May East, Andre Soares, and Mugove Nyika. *Scroll down to 'Meet your facilitators' to read their bios.*
The Ecovillage Design Education programme (EDE) was born out of the experiences of long existing communities and cutting edge educators or transformative and particpatory learning in order to share how to create a new way of living with low environmental impact and high quality of life, bringing together the four areas of regeneration: social, ecological, economic, and culture/worldview.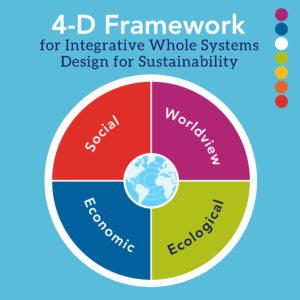 The EDE programmes are well known to be life changing. Previous participants have become change agents in their communities, cities and regions, capable of playing active roles in transitioning their communities, organisations and neighbourhoods, to more sustainable and regenerative practices, lifestyles and infrastructure, as well as leading more meaningful, joyful and healthier lives.
The course will equip you with skills and knowledge you will be able to put into action in any field or sector you are involved with, supporting you to become a facilitator of transformative learning environments and collaborative action.
*The first introductory session on 17 April was free to attend recordings were available until 23 April when registrations closed.
The Ecovillage Design Education is for you if you want to…
Gain confidence in participatory facilitation and building resilient learning communities
Improve your communication skills and conflict management
Explore shared leadership and participatory decision making processes
Practice deep sharing & trust building
Learn about appropriate environmental technologies
Identify how to support and strengthen local economies
Experience how to think globally and act locally
Gain a holistic perspective of sustainability and community building
Learn from the real experience of community builders and ecovillage founders
Improve design and implementation skills for effective regenerative projects
Work with others to explore your own dreams and plans, co-developing your projects throughout the programme.
The programme will explore the 4 areas of regeneration (social, ecology, economy and worldview) including formal classes with presentations, Q&A sessions, videos, exercises as well as group dynamics and deep sharing. Participants will create and co-develop their projects during the design sessions.
You will gain
– A certification as a Designer in Sustainability (when you attend 90% of the course)
– Integrative design skills in four areas of regeneration: social, ecology, economy, and worldview
– New friends, ideas, inspiration, and hope!
Immersive week
**According to the COVID-19 situation, we will offer additional immersive weeks in Damanhur and in Inkiri Piracanga Ecovillage so participants will be able to experience community life and more hands-on activities.
There will be an additional cost to include food, accomodation, and coordination.
Practicalities and Timing
When
Weekly from April 17th to August 1st (4 ½ months). Live calls with facilitators and guest teachers every Saturday and the last Sunday of each month, at 14.00 – 17.30 CEST. (Find your local time here.) See below for specific dates and topics. Weekly design group meetings to be decided by each working group.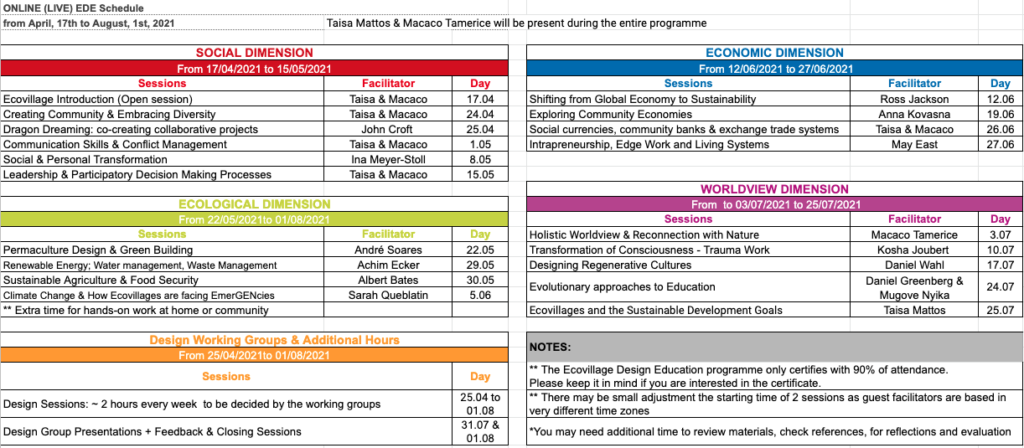 Course fee
For the full comprehensive course and certificate: €1000 / £ 860 / $1200 (payment by credit card or PayPal). To pay by bank transfer or in installments, please e mail [email protected].
With the course you will also automatically receive the GEN Online Summit package 2021 for free!
Discounts available
10% off for GEN Ambassadors;
20% off when you sign up as a group of 5 (eg. 5 spots get 1 free);
25% off for students under age 25.
We also offer Scholarships for people from the Global South, from a non-majority background and/or from a crisis area. These will be allocated according to country of residence/origin, gender balance, diversity of ethnic background and cultural heritage, meaningful role and service in your community.
Email [email protected] for any questions on course content and timing or to request a discount code.
*Registration for this cohort has closed. If you are interested in future offerings, please provide your information here and we will be in touch with details of the next cohort.