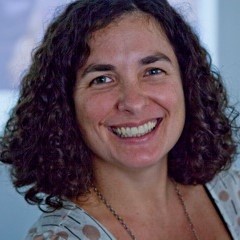 Lead Facilitator
Taisa is an experienced Gaia Education certified trainer. She has coordinated and taught Ecovillage Design Education Programmes since 2009, having contributed to 26 programmes so far, all over Brazil also in Portugal, Argentina, and Mozambique. Currently serving as Education and Research Coordinator at the Global Ecovillage Network (GEN), Taisa works as an international trainer and consultant in the fields of sustainability, social innovations, and community life.
Ecovillage researcher and Board member of the International Communal Studies Association (ICSA), Taisa is the author of the book Ecovillages: building a regenerative culture. She holds a masters degree in Communities and Social Ecology and is also a Professor at the Post-Graduate Program on Pedagogy of Cooperation and Social Methodologies in Rio de Janeiro and São Paulo (UNIP/Projeto Cooperação).
Leader author of the GEN Regenerative Urban Communities Manual and Project Coordinator of the Ecovillage Transition in Action, an Erasmus+ Strategic Partnership Project on collaboration between community-led initiatives and local authorities for regional sustainability. Taisa has contributed to transition initiatives both in urban and rural areas, being the co-founder of Terra Una Ecovillage (Brazil, which she left in 2013) and other small urban communities in Rio. She has been actively engaged with the Ecovillage Movement since 2004.