Rethinking Ecological Practices and Designs through Regenerative Agriculture, Appropriate Technology, and Restoration Ecology.
We are facing a serious climate emergency, environmental crisis and biodiversity loss accelerated by the large-scale deforestation and soil degradation resulting from industrialization and commercial farming. With the pandemic still looming over us, you may wonder what solutions are available when the scale of the destruction and damages sound too huge for us to manage.
We believe that DESIGN is the key.
With appropriate intention, purpose and design, we can head to adaptable solutions and contribute to carbon sequestration.
Join us on a webinar with Andre Leu, Jed Guinto and Sion Zivetz, who have been working in the areas of regenerative agriculture, appropriate technology and ecosystem restoration, and learn how we can help to restore our damaged ecosystems timely and effectively.
In addition to this webinar, participants have the chance to watch 3 mentorship calls (one hour each) with our speakers in which we dived deeper into their respective fields and ask questions.
This course is recorded from the webinar and mentorship calls in December 2020. The webinar is a part of the ReGEN-Nations Program in the Ecology Dimension.
OUR SPEAKERS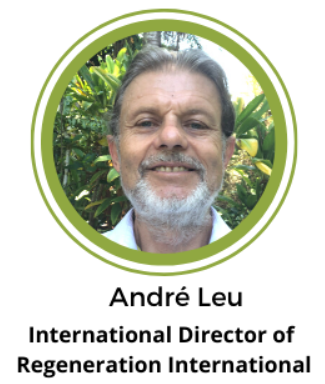 André Leu is the Author of the 'Poisoning our Children' and 'The Myths of Safe Pesticides'. He is the co-author with Dr Vandana Shiva of 'Biodiversity, Agroecology, Regenerative Organic Agriculture – Sustainable Solutions for Hunger, Poverty and Climate Change'
He was the longest serving President of IFOAM – Organics International, the world change agent and umbrella body for the organic sector, and the International Director of Regeneration International – an organization that promotes food, farming and land use systems that regenerate and stabilize climate systems, the health of the planet and people, communities, culture and local economies, democracy and peace.
André has an extensive knowledge of farming and environmental systems in more than 100 countries from over 45 years of working and visiting these countries. He speaks at numerous conferences, seminars, workshops as well as United Nations events. He meets with governments, UN bodies, industry, farmers, consumers and NGOs on the multi-functional benefits of regenerative organic agriculture, the health effects of pesticides and on the science of increasing soil organic matter to both mitigate and adapt to climate change.
Andre and his wife Julia have an organic tropical fruit farm in Daintree, in Australia.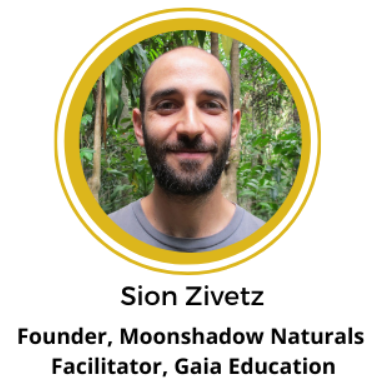 Sion has been working with ecosystem restoration since 2013 and with Permaculture for several years before that. In 2013 when Sion was introduced to Analog Forestry in Sri Lanka his perspective shifted towards the bigger needs for ecosystem restoration and economic stability for those that tend to and care for the land. He became an accredited trainer of Analog Forestry by the International Analog Forestry Network and co-managed the Belipola Sustainability Education Center in Sri Lanka for three wonderful years. Analog Forestry opened up opportunities for social enterprise and Sion founded Moonshadow Naturals with offers all-natural personal care products made by hand by rural women in Sri Lanka. The coming together of ecology and economy are central to Sion's work in restoration, education and enterprise.
In addition to caring for his social enterprise, Sion facilitates the Ecology Dimension of Gaia Education's GEDS as well as Gaia Education/Ecosystem Restoration Camps Ecosystem Restoration Design course. Sion holds two advanced degrees in Sustainability and Sustainability Education from Portland State University.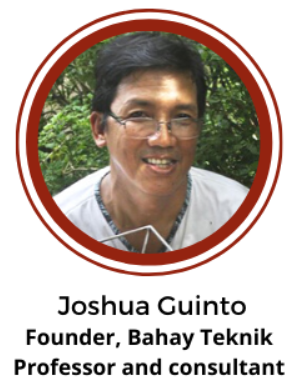 Joshua Guinto, known to friends as Jed, is a graduate of the University of the Philippines at Los Banos. Immediately after graduation, he ventured on development work serving indigenous communities in Mindanao to promote organic agriculture. His career persisted and evolved to create technical innovations on the themes of permaculture, organic farming, renewable energy and livelihoods
His study of the master degree on Rural Development and Innovations from the Wageningen University catapulted his work to create more innovations and soon created the Bahay Teknik, a social enterprise dedicated to finding solutions to household problems using local resources and techniques. To date he created more than thirty energy efficient products including charcoal making stoves and bread ovens, brick pizza ovens, solar dryers and cookers, home composting systems and container gardens. He volunteers his talent to community-based livelihood projects as well as emergency kitchens during disaster response.
He is an independent technical consultant to various NGOs in the Philippines, including the Philippine Rural Reconstruction Movement (PRRM), Plan International and Save the Children Philippines.
Along with Bahay Teknik, he now serves as a professor at a local university, the Camarines Norte State College teaching agriculture subjects. His recent works may be viewed at https://www.facebook.com/bahayteknik.
Pricing
We try to have course fees that are sensitive to economic inequalities and disparities in monetary wealth. We aim to have prices that support both what we do and people's ability to access it. We have a tiered pricing system, asking you to pay what is right for your level of financial resources.
Regular price: $10 USD
Low income, students, unemployed: $5 USD
High income or access: $20 USD
Sponsorship rate – includes a donation to GENOA, enabling us to keep prices low for others: $30 USD.
We are aware that these fees might still be high for some, and do not want finances to stand in the way of learning. We are happy to offer a discounted scholarship rate – please write to us at [email protected] to apply.