The following topics display the recording of the first series of the International Research Colloqium that took place on the 21th of October 2020 with a presentation of Dr. Rebeca Roysen on "Ecovillages as sustainability "classrooms" and Daniel Greenberg on "Academia vs. Ecovillages".

Below you will find the bios of our presenters!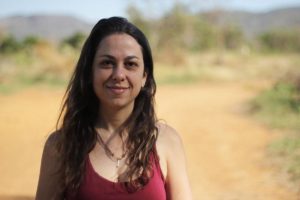 Rebeca Roysen holds a PhD in Sustainable Development and an MSc in Social Psychology. She is a Volunteer Lecturer at the Centre for Advanced Studies of Cerrado at the University of Brasilia (Centro UnB Cerrado – CER/UnB). She lives with her daughter in the Aratikum ecovillage at Instituto Biorregional do Cerrado (IBC) since 2016 and is the Coordinator of IBC's pedagogical eco-centre. Her research interests are: sustainability transitions, social practice theories, ecovillages and other grassroots innovations, higher education and transdisciplinarity. You can find her articles at https://www.researchgate.net/profile/Rebeca_Roysen and her books at https://www.amazon.com/author/rebecaroysen.
In 1999, Daniel Greenberg founded the non-profit Living Routes, which partnered with UMass-Amherst to run study abroad programs based in ecovillages around the world. Over 1,500 students were transformed by these immersive experiences. Daniel left Living Routes in 2012 to start a new social venture called Earth Deeds, which offers online tools for individuals and groups to "onset" their unavoidable CO2 emissions and support meaningful sustainability projects.
Daniel has been a leading advocate for sustainability within international education and the ecovillage movement. He chaired Sustainability Task Forces for NAFSA: Association of International Educators and the Forum for Education Abroad, is co-founder and past Board Member of Gaia Education, and served as President of the Global Ecovillage Network from 2015-2019.